by
April 24, 2016
I'd Rather Be Surfing
Last week, Costa Rica Surf Camp once again had a blast surfing with our surf camp students from all over the world. We had repeat surfers and surf camp guests, as well as novice surfers. There was a family of 4 who completed their second trip to Costa Rica Surf Camp, couples, siblings and friends visiting. Everyone signed up for week-long  classic Costa Rica Surf Camp packages. Everyone was so kind and fun and eager to surf!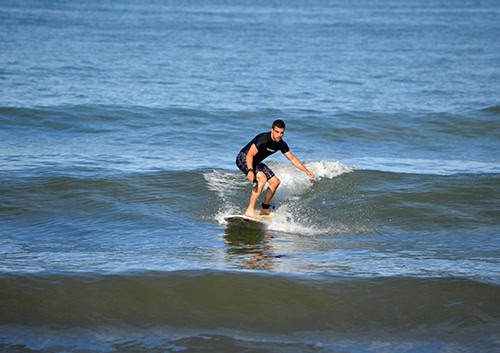 This week favorite was package was El Paraiso at Mavi. Mavi is a great hotel located on the edge of town. It is right down the road from the beach, so all you'll have to do is roll out of bed and you'll be surfing!
Who was at the surf camp?
The surf campers at Costa Rica Surf Camp made the most of the surf in Playa Dominical and surfed every day, several times a day! The age group went for 8 to 55 years old and everyone left Costa Rica Surf Camp with confidently knowing how to surf. The father and son from California both had basic knowledge surfing, and we were able to coach them on how to improve their surfing and had them riding on smaller surfboards. Both our college students and the family from Germany had never surfed before. From the very first surf lessons our surf instructors Ezequiel and Falon had them up and riding the waves all the way to the shore.
Besides surfing, we got to explore several beautiful waterfalls in the area and see wildlife like monkeys, sloths and toucans while zipping through the Hacienda Baru zipline tour. The team and Costa Rica Surf Camp helped our guests reach their goals and have fun while doing it. Now that group has head home and I bet they're all thinking 'I'd rather be surfing….