About Costa Rica Surf Camp
Costa Rica Surf Camp offers surfing vacations to beginners, intermediates, and advanced surfers of all ages. Costa Rica Surf Camp is based in Playa Dominical, in the south west of Costa Rica. Playa Dominical is famous for surfing because it offers endless waves to surfers of all levels.
Costa Rica Surf Camp has been offering surf vacations since 2003. All instructors have worked as lifeguards in Playa Dominical! In addition, we offer a 2:1 student to instructor ratio so we can give you the attention you deserve! At our surf camp, we believe in quality and not quantity. With that and safety in mind, you are guaranteed to get the most out of your surf experience here at our surf camp.
Our surf camp is locally owned and run by friends who have grown up surfing and are looking to share their love for the sport with others. Dominical is a very special place; with lush jungles and breathtaking beaches, it's a wonder Dominical has stayed a secret to many for so long.
Please take your time in looking through our site to see what our camp has to offer. We look forward to surfing with you!
Costa Rica Surf Camp History
Cesar Valverde grew up by the beach in Playa Dominicalito de Osa. He runs Costa Rica Surf Camp with the vision and goal of great surf instruction and wonderful guest services, which has always characterized Costa Rica Surf Camp in Playa Dominical as the best surf vacation destination in Costa Rica. Cesar started his surfing when he was 9 at Punta Limonal, a series of rocks and point breaks just south of Playa Dominical and hasn't stopped since. In his late teens, Cesar enjoyed competing in surf competitions and held a place on the national team. Now he dedicates his time to the surf camp and surfing.
Cesar is a very caring person and always goes out of his way to see that his guests have a great time. Not only does he love sharing his knowledge of surfing, but he also enjoys showing his guests the culture of Playa Dominical. He strives to make everyone's experience in our surf camp unique and personal. He also makes sure that everyone leaves with the confidence to surf waves on their own. Cesar loves sharing his love of Playa Dominical with travelers from around the world.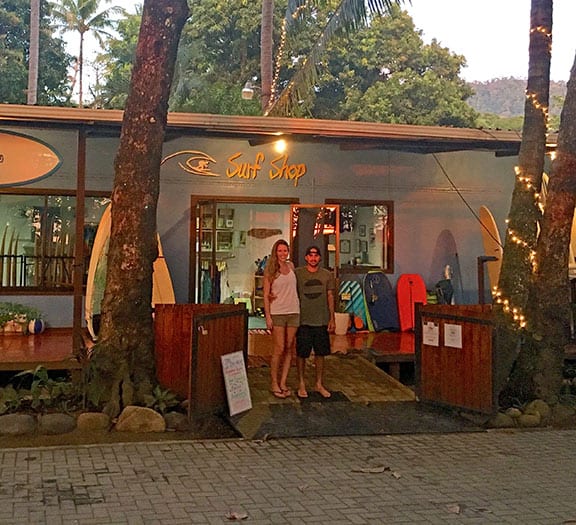 Costa Rica Surf Camp's mission is to let our guests see, experience and enjoy what Playa Dominical has to offer. In other words we offer more than just surf lessons; we provide a great time in AND out of the water!! We take you to beautiful beaches, waterfalls and nature trails and enjoy doing it!
Playa Dominical is the home of Costa Rica Surf Camp
Dominical a great place for guests of all ages and interests. Costa Rica Surf Camp offers a variety of features through different partners like kayaking, yoga, massage, waterfalls, horseback riding, fishing, waterfall rappelling, hiking through the jungle, Stand Up paddle boarding, canopy tours, scuba diving and more for your enjoyment. Nightlife and restaurants are a few more things Playa Dominical has to offer in addition to surfing. The team at Costa Rica Surf Camp takes the time to show you what Playa Dominical is really all about!