Best Places to Eat in Dominical
by
May 31, 2017
Dominical is mostly famous for its surf spots, but this small town is full of dining options to suit any taste. Get started on trying them all with our list of best places to eat in Dominical.
Cafe Mono Congo
We're bananas for this place whose name translates as "Howler Monkey." Cafe Mono Congo serves up the best coffee in town and offers a variety of healthy food options, making it one of the best places to eat in Dominical. Our tip: Order the Tico Bowl – a spin on Costa Rica's national breakfast dish, "Gallo Pinto." Finish off with a Monkey Ball for dessert – you'll have to try it to find out what it is!
Soda Suraza
Suraza is one of the best places to eat in Domical for seafood lovers. This "soda," the term used for local restaurants, is located on the town's main road. They serve up fresh, delicious food that is authentic to Costa Rica's coastal region. Our tip: Ask them to fry a whole red snapper for you on the spot!
  Fuego Brewery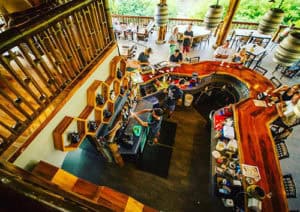 Taste great craft beer in a brewery where fine craftsmanship shines through in every detail of its design. We love dining and drinking al fresco, and enjoying their happy hour at sunset. It's no wonder this brewery was recently featured in Men's Journal. Our tip: For a beer that's hard to find anywhere else, try the popular Guanabana Hefeweizen brewed with soursop. To eat we recommend the Wasabi Tuna Sliders and steak fries.
Tortilla Flats Beach Bar
The only bar in Dominical located right on the beach. No shoes, no shirt, no problem at this relaxed spot open all day until late. This bar has been open for 17 years and is a favorite for many of our staff, so naturally, it makes our list as one of the best places to eat in Dominical. Our tip: ask for the Nachos and a "Michelada" beer for a true Costa Rican meal experience.
Phat Noodle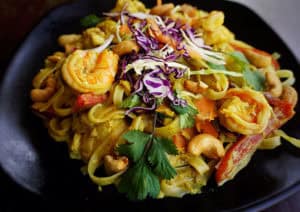 Come here for Thai fusion cuisine and great cocktails. Their kitchen is a retired school bus that was repurposed and transformed into a kitchen, and the bar is made completely from locally sourced bamboo. Our tip: Start off with their coconut milk ceviche, then move on to the Kalio Teloy for the main course. To drink, the Spicy Pineapple cocktail will leave you and your taste buds with a nice buzz!
Cafe Ensueños
For authentic Costa Rican food visit this little cafe off the beaten path. To get here you'll have to explore Dominical a little, and it'll be worth it to try their great dishes at affordable prices. Our tip: Try any one of their smoothies which are jam-packed with fresh tropical fruits. For lunch fill up on "Arroz con Pollo" that comes with salad and fries.
Pescado Loco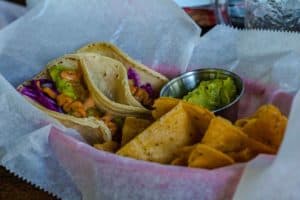 If you're craving fish tacos this is hands down the best place to eat in Dominical. Pescado Loco offers affordable options and hefty portions. Their quick and friendly service keeps customers happy and coming back for more. Our tip: Order the beer battered fish tacos that come with a side homemade chips and fresh guacamole, yum!