Things to do in Dominical when you're NOT Surfing!
by
May 27, 2017
Ahead we've put together a list of adventurous things to do in Dominical when you're not enjoying surfing with us at Costa Rica Surf Camp. There's plenty of adventures and relaxing activities to give you the vacation of a lifetime. Let us know if we can help set anything up for you!
Waterfalls 
Uvita Waterfall – A guided tour is included in your package at our surf camp. Slide down the waterfall and enjoy this natural water park in the middle of the jungle.
Posa Azul – This small waterfall has a big pool and a vine to swing from. Posa Azul is great for a relaxing swim or those who are looking to unleash their inner Tarzan! Also included in your package at Costa Rica Surf Camp.
Nauyaca Falls – The Nauyaca Falls are majestic. You can get to the top of the falls by car, by horseback, or hike for an all day adventure that will take your breath away.
Diamante Waterfall – This is one of the things to do in Dominical that is worth taking the time out to do. Take a rigorous hike up to the top,  then sleep in a cave behind the 175ft tall waterfall. A truly unforgettable experience!
Hikes
Beach walk to Roca Verde – Walk along the beach at low tide, over to the rocks in front of Roca Verde Hotel. Climb up over the large rock formations to discover tide pools hidden away from the main crowds.
Ayacucho – Go through the Roca Verde Hotel and up the hills of this upscale neighborhood. You will catch views of the entire coastline and several islands including Cano Island, a marine biological reserve that is a diver's paradise.
Riverwalk – One of the unique things to do in Dominical and only Dominical is experiencing the jungle, river, and ocean all in the same place. Take a relaxing walk or energizing run along the Baru River to find some quiet. Surround yourself with the sound of the rushing river and the undisturbed jungle. 
Night Jungle Wildlife Walk – Get a different view of the jungle and it's active nocturnal wildlife on a guided Night Walk. Get in touch with us to help pre-book this unique Costa Rican experience.
Rivers
Swim in the Baru River- Wade in the calm, turquoise waters of the Baru river. Take a short walk up from the river mouth in the center of town to reach this paradise.
White water rafting the Savegre River – For adventure seekers and adrenaline junkies! Rafting down the Savegre is sure to deliver a good time. It is the cleanest river in all of Central America. Tours go all day and include lunch and gear, so just show up ready to have fun!
Kayak tours of the Mangroves – A true taste of the tropics paddling through calm waters with diverse flora and fauna. Get a chance to spot wildlife like sloths, monkeys, and exotic birds.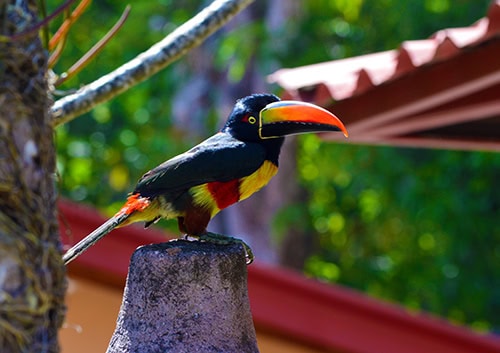 Drinks and Nightlife
Check out our article on the Best Places to Eat in Dominical to get the scoop!