Ezequiel – Head Surf Instructor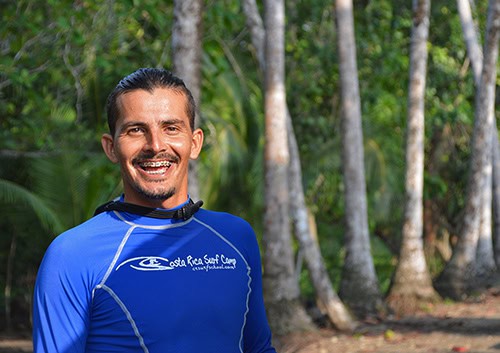 Ezequiel – Head Surf Instructor
Ezequiel (Eze, as we like to call him) is a head surf instructor at Costa Rica Surf Camp. Ezequiel is Cesar's younger brother, and we love having family on our team! Ezequiel has been a surf instructor at Costa Rica Surf Camp since 2011 and has over 8 years of experience. He is CPR & First Aid certified and safety in and out of the water is very important to him! Ezequiel has also worked as a seasonal Lifeguard in Playa Dominical.
Ezequiel prefers free surfing to competition surfing. His perfect wave would be a 6 – 8 foot right with a huge barrel (Hi, Dominical). Ezequiel started surfing when he was just 7 years old out front of his families house at La Punta in Dominical. When asked what his first surfboard was, Ezequiel laughs, "actually, I started surfing on a boogie board before I got a surfboard."
Ezequiel loves surfing for the adrenaline. Surfing, he says, also clears your head. When you are out in the water, you stop thinking, it's just you in the water catching waves. His favorite part of growing up in Dominical was the consistent good waves and surfing from a young kid.
Ezequiel is wonderful with the students and keeps everyone smiling with his upbeat personality and kind humor. He comes off serious, but don't let that fool you! He will be cracking jokes all throughout the surf lessons. What he likes best about being a surf instructor is sharing his knowledge and his passion of surf and making other people happy. In his free time, Ezequiel likes to surf, go to waterfalls and spend time with his son, Kalani. Ezequiel likes to take Kalani surfing, and like father like son, Kalani loves to surf as well. You'll have a blast learning to surf with Ezequiel here at Costa Rica Surf Camp!