Stand Up Paddle Board in a Tropical Paradise
by
May 26, 2017
Stand Up Paddle board, also known as SUP, is a fun, relaxing way to play in the ocean, rivers or lakes. Playa Dominical is the perfect place to SUP and SUP surf. Take a cruise along the coast line, down the river mouth at sunset (or sunrise), or a relaxing cruise through the mangroves, there are so many beautiful places to SUP in the Dominical area!
A stand up paddle board is a long wide surfboard that floats more easily then a regular surfboard. You do not need waves to stand up paddle, and for beginners, it is even easier on calm water like a lake or slow moving river. You can cruise along or practice riding waves in on your SUP boards.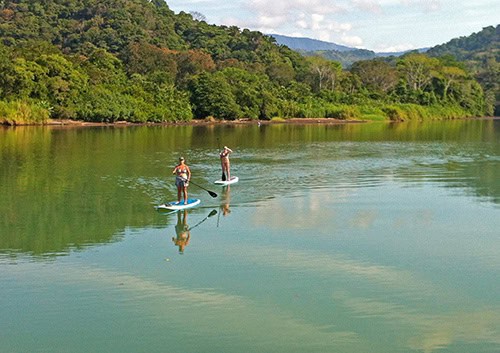 Stand Up paddling is a great exercise to work out your core muscles, and what is better than a work out you can enjoy! Almost anyone can do it which is why it is one of the best exercises there is. You will get a complete body work out with enjoying untouched nature.
Combine your surfing adventures with surf for a week long of fun on the water. Costa Rica Surf Camp partners with Pineapple Tours, who will travel you gliding through the mangroves or paddling through ocean caves. SUP is a very popular sport and almost anyone can do it! Never SUPed before? Join Costa Rica Surf Camp and Pineapple Tours for a SUP and Surf Camp. Our professional and knowledgeable instructors will guide you through both you surf and SUP experience.
Stand Up Paddle Tours in Dominical
Pineapple Tours offers stand up paddle adventures in the ocean and through the mangroves. You can enjoy a relaxing paddle through the mangroves, an amazing ecosystem bursting with wild life. Or try out stand up paddle tours in the ocean. Paddle through exciting ocean caves or go snorkeling around the Costa Ballena's famous "Whales Tale." It is a adventure you will not forget! Please contact us now for help with booking!