Buying a Used Board in Costa Rica
by
September 12, 2017
Surfers are often caught in a moral dilemma between their love of surfing and their inherent love of the environment. Buying a used board is one of many ways to try to minimize the negative impact on the environment that comes with the production and disposal of surfboards. At Costa Rica Surf Camp we have a variety of used boards to pick from. Whether you're traveling and interested in buying a used board in Costa Rica upon your arrival, or are a local looking to try out something different, we can help find you the right board for the right price… and a cleaner conscience.
Surfboard Production: Petroleum Products and Carbon Emissions
Modern surfboards and their production are undoubtedly bad for the environment. This impact comes from the use of petrochemicals and the energy it takes to get a finished product. There are a lot of parts to a surfboard, but they are mostly made of a polystyrene core and are sealed with polyester resin. Both of these are petroleum products, toxic and not biodegradable.
Today, about 400,000 surfboards are made around the world each year. It is estimated that around 40 percent of each blank ends up being disposed of. This stuff often ends up going to landfills where they'll sit for well past our lifetime.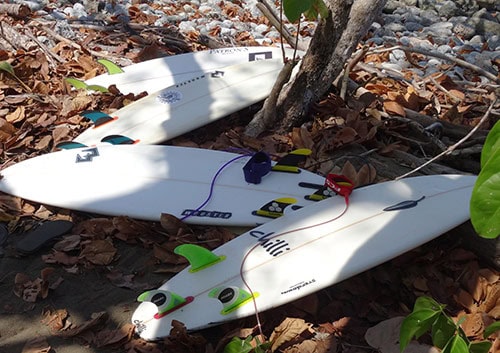 We buy and sell used boards at our surf shop, so keep us in mind when you're looking to sell or buy a board.
Buying a Used Board in Costa Rica: Come Check Out Our Shop
If you're shopping around for the perfect board for your Costa Rica surf vacation, think before you buy. The easiest step you can take to help diminish your environmental impact on your vacation is buying a used board in Costa Rica. Buying a used board means you won't be contributing to the demand for almost half a million new surfboards to be made each year. Another plus is that you will be sharing the stoke by helping another surfer, who is hopefully looking to buy another used board too.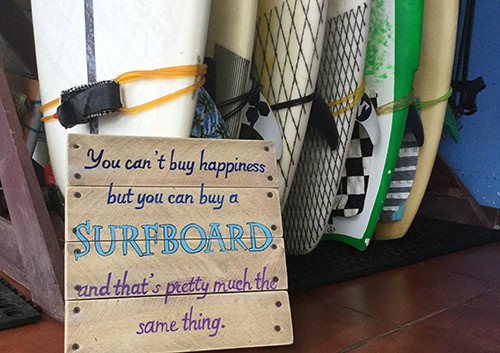 Last Resort: Retiring Your Surfboard
Once your surfboard has reached the end of its surfing use, responsible disposal is key. There are endless ways to repurpose the board. Cafe Mono Congo (on our list of best places to eat in Dominical) salvaged this board from the dumpster and turned it into a cool bench. We also see lots of art and signs around town made from retired surfboards. Another great option for bigger boards is to talk to your local shaper to see if he can transform it into a new board. Whatever you choose to do, make sure you dispose of it responsibly.