Surf Lessons at Costa Rica Surf Camp
by
July 22, 2017
Ask anyone about their first surf lesson and they'll tell you there's nothing like the feeling of catching your first wave. At Costa Rica Surf Camp our goal is to share that awesome feeling with as many people as we can. Come try surfing with us! The only requirement is to want to learn.
All Ages and Abilities
Our instructors have experience teaching surf lessons to people of all walks of life. We have taught families with 3 generations, and we recently had a 73-year-old man standing up on his first wave! We also teach children as young as 4 years. No previous experience or ability is required. All you need is to want to have fun, and a little determination, and you're ready for your first surf lesson.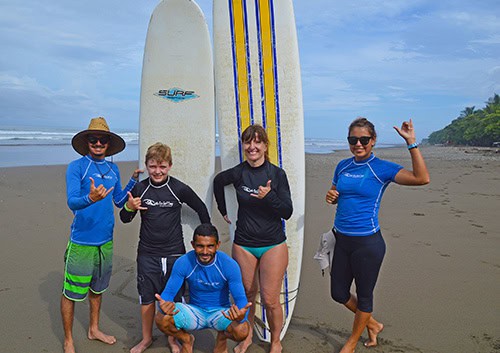 "I love seeing people learn to surf, they're always so happy. It's great to see them practicing afterward and know that I helped introduce them to that." – Henry, Instructor
Small Class Sizes
Our instructors have experience teaching surf lessons to groups as large as 36 people! However, we take pride in our small 2:1 student to instructor ratio. For children under 10 years old, we use a 1:1 ratio because safety is our first priority. At the beginning of your surf lesson, you will learn some safety tips from your instructors, including the basics on how to read the ocean and spot currents. Although surfing is fun, it's still an adventure sport that takes some preparation and practice. With our small ratio, we guarantee the personalized attention you need for your first surf lesson.
Photos
One of the best parts about surfing on your Costa Rican vacation is being able to go home and tell all your friends about it! We offer photo packages for both beginner and intermediate surf lessons. Photos also can help you get insight into your technique, and show you your strengths and areas for improvement. Make sure you get in touch with us beforehand to book your photo package for your surf lesson!
Surf Packages
For those who want to improve passed a beginner surf lesson, we recommend taking several lessons with one of our surf packages. You can simply surf, or combine your classes with a yoga practice which can have several benefits. Our packages are also perfect for groups and families who want to add some adventure to their vacation.